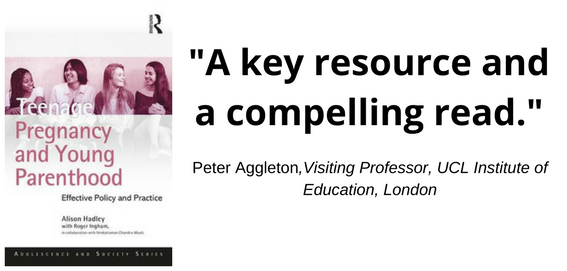 Teenage Pregnancy and Young Parenthood provides a comprehensive, unparalleled insight into the UK Labour Government's highly successful Teenage Pregnancy Strategy (TPS) for England which reduced the under-18 pregnancy rate by well over 50%, and considers how the lessons from this policy can be applied internationally.
Speaking about the publication of the new book, author Alison Hadley OBE, Director of the Teenage Pregnancy Knowledge Exchange at the University of Bedfordshire said that:
"Successful government policies that have been carefully delivered and implemented can be quickly forgotten, and energy and resources wasted in working out new approaches. This book shares lessons of the successful strategy to help sustain progress in England, and contribute to international efforts to improve young people's reproductive and sexual health, highlighting the innovative way the strategy addressed complex policy issues. We were also keen to pay tribute to the hard work of the many hundreds of committed individuals involved in the strategy who were determined to bring about change and make a difference to young people's lives."
The World Health Organization (WHO) has also recognized the achievements of the TPS, saying it represents an effective scale-up of adolescent sexual and reproductive health programmes, with sustained government leadership. Dr Ian Askew, Director of the WHO Department of Reproductive Health and Research explains that "governments will have to focus on addressing the needs of their adolescents if countries are to achieve the Sustainable Development Goals by 2030. The programme implemented in England to address teenage pregnancy is a highly credible example of what may be done to meet those needs."
Advocating a 'whole systems' multi-agency approach this book translates evidence into clear action, and combines theory and practice with illustrative case studies to demonstrate how to implement policy successfully. It is valuable reading for policy makers and practitioners dealing with young people's health, as well as undergraduate and postgraduate students in the fields of psychology, health studies, social work, youth work, education, social policy, sociology and related disciplines.
_________________________________________________
Praise for Teenage Pregnancy and Young Parenthood
"This book offers a valuable insight into the development and implementation of a long-term strategy to successfully address a complex public health priority... As England continues to apply the lessons and make further progress, I am delighted the learning is being shared internationally in collaboration with the World Health Organisation."— Duncan Selbie, Public Health England
"Alison Hadley, Venkatraman Chandra-Mouli and Roger Ingham tell an extraordinary tale of scientific understanding, visionary leadership, and long-term dedication to adolescent sexual and reproductive health. A story from which we all can learn."— John Santelli, MD, MPH, Professor, Population and Family Health and Pediatrics, Columbia University, New York City, USA
_________________________________________________
Teenage Pregnancy and Young Parenthood is available via https://www.routledge.com/9781138699564
For press enquiries, review copies, extracts and interviews, please contact:
Tom Eden
Associate Marketing Manager
tom.eden@tandf.co.uk
_________________________________________________
About the Authors
Alison Hadley OBE is the Director of the Teenage Pregnancy Knowledge Exchange at the University of Bedfordshire and previously led the implementation of the Labour government's Teenage Pregnancy Strategy for England.
Roger Ingham is Professor of Health and Community Psychology at the Centre for Sexual Health Research at the University of Southampton.
Venkatraman Chandra-Mouli works in the World Health Organization's Department of Reproductive Health and Research.
****************************************************************
About Taylor & Francis Group

Taylor & Francis Group partners with researchers, scholarly societies, universities and libraries worldwide to bring knowledge to life. As one of the world's leading publishers of scholarly journals, books, ebooks and reference works our content spans all areas of Humanities, Social Sciences, Behavioural Sciences, Science, and Technology and Medicine.
From our network of offices in Oxford, New York, Philadelphia, Boca Raton, Boston, Melbourne, Singapore, Beijing, Tokyo, Stockholm, New Delhi and Johannesburg, Taylor & Francis staff provide local expertise and support to our editors, societies and authors and tailored, efficient customer service to our library colleagues.